Bill Grogan's Goat combines solid Detroit rock with traditional Celtic melodies to produce a truly unique sound, tightly combining traditional songs with reels, jigs, and hornpipes at a pace that will challenge the Lord of the Dance himself.

Highland pipes, mandolin, fiddle, banjo, bouzouki, and penny whistle, accompanied by rock and roll bass, guitar, and drums, breathe new life into time-honored songs of love, war and whiskey.
Kick out the Celtic jams!
Get your Goat Gear!
Visit the Store to purchase our music!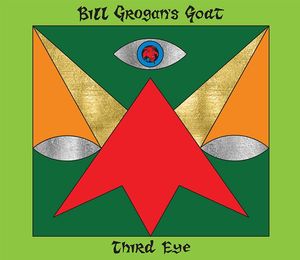 Third Eye On sale today!
Voted Third Best Album of 2017 by Shite and Onions Website and podcast!!!  Top songs on many well know Celtic Pod casts!  REALLY GOOD!!
Bill Grogan's Goat's newest album, Third Eye, is here!  Visit Our Store to order or download your copy now!  
"This Detroit five-piece are confident, uncompromising and, well, rollicking fun.  They take traditional shanties and songs like Haul Away Joe and Ye Jacobites By Name and work them inside out.  To call this music "Celtic Rock" is too safe.  For newcomers, think ceilidh meets piratical roistering, hardcore punk, a pinch of Tool, and Irish balladeering, and you begin to get the picture."    -PROG Magazine-
"The Goat are easily one of the most original bands in the whole Celtic-rock universe.  Celtic meets primal Detroit rock'n'roll, and a few new influences just for good measure."
-Shite 'N Onions-
"Bill Grogan's Goat do not play the well-known versions, but take their songs apart thoroughly, then put them together completely new."
-Celtic-Rock-
"There probably isn't such a thing as a bad time to see Bill Grogan's Goat, but on a freezing January Thursday night in Corktown, at PJ's Lager House, they're just about perfect...maybe it's because we know that Ireland and Scotland are far from the warmest of places on Earth, so a good dose of Celtic rock on a cold evening feels authentic. Or perhaps it's because you can't help but dance to this stuff, or at least tap your feet, and that warms you up. Regardless, there are few better at this sort of stuff than the Goat."
-Brett Callwood, City Slang/Detroit Metro Times-

"Folk song given a boot up the behind courtesy of electricity...Sonically, the Goat mix traditional Celtic music with prog metal a la Tool and Porcupine Tree, the first wave punk of the Pistols and the Buzzcocks, Irish rock like Thin Lizzy and Scottish rock like the Sensational Alex Harvey Band. It's a heady brew."
-Brett Callwood, Detroit Metro Times-

"Now, here's something a little bit unusual to get your teeth into.  Because this is a five-piece from Detroit who combine solid Motor City rock sounds with a pure Celtic vibe.  Highland pipes, mandolins and fiddles caress against rock'n'roll.  It works!"
-PROG Magazine-

"...an enjoyable ... affair that turbo-charges a lively set of venerable tunes with a punky, high-speed ethic ... One imagines it'd be brilliant in a bar where the Guinness is flowing."
- PROG Magazine-

"...their album is a sure bet: guitars, guitars and more guitars. And the addition of a great deal of pipes, fiddle and tin whistle. If you like the mix of Celtic music with the Detroit r'n'r tradition, then Bill Grogan's Goat "Second Wind" won't disappoint you."
-Celtic Folk Punk-

"…louder, faster, dirtier and more Motor City guitar riffs then you could ever imagine Irish folk to be. Iggy and The Stooges meets The Clancy Brothers…it's good and at times skull crushing amazing…"
- Mustard Finnegan, Shite 'n' Onions CD review-

"Hang on to your hats...do not expect a traditional rendition of 'The Irish Rover', as this guy is roving on speed.  This is not an album for your purist uncle or granny, but if you know a young person who thinks Irish music is boring, here is the antidote."
-Nicky Rossiter, Rambles.NET-

"If you're looking for a high-energy, Celtic rock band that isn't afraid to take on traditional Celtic and folk tunes by reinventing them and adding a bit of rock n' roll to the tunes, then Bill Grogan's Goat is the band you've been seeking. The diversity of the musicians that make up this band is what makes this new spin on Irish music so do-able. And the best part is…it's done well!"
- Marc Gunn, Celtic Music Magazine-

"...great music ... elevates this above just another Celtic rock band."
- Fred Willson, of Celtic world band An Dro -

"...when you mix traditional Irish Folk music with an untraditional group of former rock, punk, techno and disco aficionados… you get Bill Grogan's Goat."
- The Belleville View -